Wall Street doesn't know this, but the electric car market is in deep trouble. 
The problem is "range anxiety." Zoom in on this map to see where we are now. The problem is acute, even in California.
Today, most electrics are used close to home. You buy a 240-volt plug, you snuggle the car up close, and you recharge it at night, just as you do your phone. Fine if you have a house. But not everyone lives in a house.
Some apartments have opened charging stations in their garages, and there are lots of on-street 120-volt and 240-volt "free charging" places. But you can't scale the business that way. Free chargers quickly get full as electrics cease being a curiosity. And how long are you going to give electricity away? Third (and perhaps most important) wall current takes all night to deliver a fill-up. Most stations today are delivering wall current.
If you want a quicker picker-upper, you need a 480-volt Direct Current plug. AC won't do it. Tesla calls its version a SuperCharger. ChargePoint calls its DC Fast. There are other networks run by EVgo and ElectrifyAmerica, boosted by Volkswagen's "Dieselgate" fines.
The systems aren't compatible. There are three different 480 volt plugs on the market – CHAdeMO, CCS and Tesla. Only now are we starting to see batteries that support faster charges. And how do you pay? That can quickly get political.
Second, you have Tesla's proprietary advantage. Most 480-volt chargers right now are Tesla SuperChargers. Then there's the cost of electricity. The claim that it costs just $3.64 to drive 100 miles is bogus. That's just the electricity, assuming it stays at the same price. That doesn't cost the charging infrastructure, or the real estate it sits on.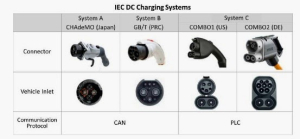 For electric car charging to work for long trips, at scale, it must work the way gasoline works. You come to a pump, you pay at the pump, and you leave. But even a SuperCharger or DC Fast charger takes a half-hour to charge. Only truck stops support a stop of that length. Even stores like Wawa and QuikTrip are designed for a five-minute stop. You need a full restaurant, at least a fast-food place with nice tables. Then, if you require a half hour to charge a car, the "pumps" quickly get overloaded. I already wait to get a fill-up at Costco.
Standards are needed. Standards for plugs and standards for payment. But Tesla, and its stock price, stand in the way of standards. Like Apple, Tesla's market power comes from running a proprietary system. One way to get "gas," one way to pay for it. As the company continues to scale, even its network is going to get overloaded. Right now, many SuperChargers are at hotels.
All these problems can be fixed. But if you're going into a showroom next fall looking for electrics, looking at a wide range of offerings from Ford, GM, Tesla, Volkswagen, and others, you're also going to be looking at the cost and convenience of refilling your engine. I think you're going to find it a mess and you're going to walk away.
There are different ways this can go. We could see "super stations" with hundreds of "pumps" opening with big stores you can spend time in, a super Buc-ee. Either pull up to an attendant or to a plug that will deliver an alert when you're full.
The promise of electrics is real but there's a chicken-and-egg problem. Until the problems are solved, the mass market won't seriously consider electrics.
Which means a lot of car companies are going to fail.